2 April 2010
Posted by AFed
London Education Workers Group-Public Meeting Thursday April 29th at 7pm Education, education, education or Cuts, Cuts, Cuts? Public meeting convened by London Education Workers Group….
Read Article →

4 November 2009
Posted by AFed
The Crisis
The crisis in modern society isn't just about economics. It's about the crisis in the environment too and about the crisis in international relations. Several major wars are being fought "on our behalf" whilst worldwide rabid nationalism., fascism and fundamentalism are making headway. All of these crises effect each other. We need to examine the effects of these crises, how they interconnect and whether a solution to these problems is possible.
A series of public meetings convened by the Anarchist Federation (London group)
Nov 18th 2009, Dec 16th 2009 & Jan 14th 2010
Read Article →

9 October 2009
Posted by AFed
London Anarchist Bookfair 2009 Saturday 24th October 2009, 10am-7pm The venue for this year's London Anarchist Bookfair is the same as for the last two…
Read Article →

26 September 2009
Posted by AFed
Please make every effort to participate the following demonstration called by the Solidarity Federation and supported by the Anarchist Federation. The demo is for comrades of the Anarcho-Syndicalist Initiative (ASI) in Serbia and others, including the General Secretary of the International Workers Association, who have been arrested and detained in Serbia on completely spurious charges of 'international terrorism'.
Following the first demonstration on 11th Sept, another picket of the London Embassy of Serbia and Montenegro is called for Monday 28th September, 12-2pm. The Embassy is at 28 Belgrave Square, London, SW1X 8QB, nearest stations Victoria, Hyde Park Corner and Knightsbridge. Called by Solidarity Federation (the UK IWA section) in support of the ASI comrades repressed by the Serbian state. Please bring banners, placards and black and red flags.
Read Article →

26 September 2009
Posted by AFed
Anarchist Federation (London) are holding a social at Freedom Bookshop, Angel Alley, 84b Whitechapel High Street, E1 (nearest tube Aldgate East) on Sunday 27th September…
Read Article →

16 April 2009
Posted by AFed
Invitation to anarchist May Day Celebrations in London Friday May 1st. From 6pm onwards at
Read Article →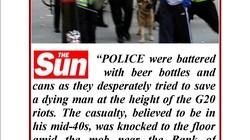 4 April 2009
Posted by AFed
G20 Meltdown. 1st & 2nd April 2009. Links to Indymedia, Legal Monitoring Defence Group and other independent sources Indymedia UK: G20 reporting – April 1st,…
Read Article →

29 March 2009
Posted by AFed
Just a few links to media from Saturday 28th March 'Put People First' march & rally (2009) … Links to Indymedia UK: Photos from the…
Read Article →

24 March 2009
Posted by AFed
World Economy in Crisis – Who Pays the Price? And How Do We Resist? Public meeting jointly organised by Anarchist Federation (London) and Solidarity Federation….
Read Article →

3 March 2009
Posted by AF
"BRITISH JOBS FOR BRITISH WORKERS" is a slogan that's become very familiar in the past few months.  Energy sector workers across the country have staged wildcat strikes and demonstrations to protest at the fact that workers have been brought in from outside the UK while local people go jobless.  Now the protests are spreading to the construction industry.  The union Unite is planning pickets and unofficial action at construction sites where foreign workers are employed, and the Olympic site in East London is being highlighted as a high-profile potential target for the campaign.
Read Article →