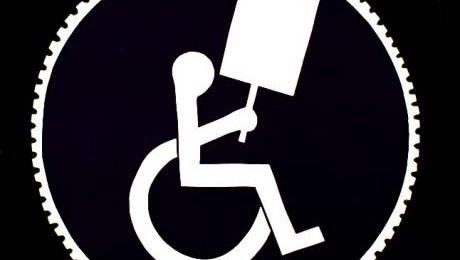 From LibCom.org:
It is easy to see how the phrase 'to each according to their needs' will abolish an aspect of disability. If we produce for need rather than profit there is no reason why we should not chose to produce buildings, equipment, technologies and so on that are designed on the assumption that physical and psychological variation of all sorts is a normal part of human society and that it is right to take this fully into account when producing thing for people to use.

The phrase 'from each according to their ability' less obviously deals with disability, but is in fact more fundamental to understanding why communism abolishes it. As we have seen, disability is defined by people's inability to do certain things that they are supposed, as good worker, to be able to do. Under capitalism workers are interchangeable. We are only allowed to produce (or, for that matter, consume) in ways designed to maximise profit. In a society where production is self managed and for use, it would be inconceivable to prevent people from contributing to society on the grounds of what they were unable to do, when there was a great number of things that they could do. In societies with less abundance than western capitalism, there simply has not been the surplus to allow people to go without contributing, albeit often in horrifically exploitative ways. Capitalism has created both the necessary surplus and the logic of production to stop disabled people in particular, and the working class in general, from contributing fully or often at all. Communism, through the self management of production according to the principle that people contribute in the ways they are most able to, overcomes capitalism's exclusionary practice and overcomes the logic of alienation upon which capitalist production is built. The full and equal integration of all people into the reproduction of society, regardless of factors such as impairment, is surely the goal of communism and the foundation of a society in which the free development of each is the condition for the free development of all.
Read the whole article here.