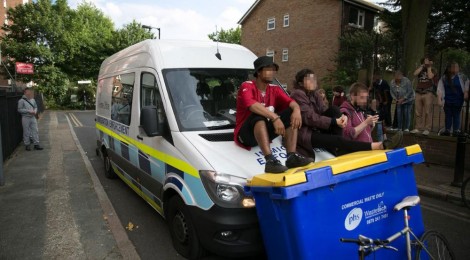 [REPOST] Activists Fought with Riot-Cops to Try and Save an Immigrant from Detention
Reposted from Vice:
Sensing the mood – which I guess is fairly hard to miss when people are throwing bricks at your head – the cops tried to make a quick exit, but people blocked their vans. They moved on foot for about 500 metres, getting more traffic cones and bottles hurled at them and wheelie bins pushed at them. I guess that's another reason for middle England to hate wheelie bins. I saw one TSG officer being hit full on in the back of the neck by a traffic cone and had to be helped into a police van by his colleagues. Police later confirmed that he was KO'd but didn't need hospital treatment.
If racist cops are coming into your neck of the woods then take inspiration from from this act of solidarity through collective direct action. There are many many more of us than there are them. Well done to everyone who stood up for their class against the racist forces of the state!