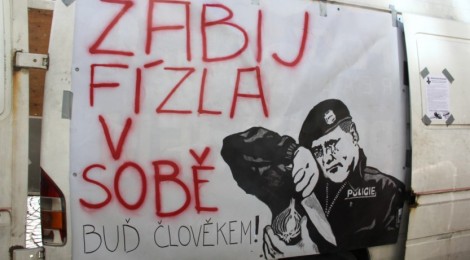 We are lucky to be able to work along side local Anarchist Black Cross groups to present a speaking tour by comrades from the ABC in Belarus and learn about the repression faced in their region. The following dates have been confirmed:
22/06 – Bristol – Kebele, 14 Robertson Road, BS5 6JZ – 7:25pm
23/06 – Manchester – Ducie Bridge, 152 Corporation Street, M4 4DU – 8:00pm
24/06 – Glasgow – Fred Paton Centre, 19 Carrington Street, G4 9AJ – 6:45pm
25/06 – Edinburgh – Forest Centre Plus, 38 Castle Terrace, EH3 9JD – 7:15pm
26/06 – London – Freedom Bookshop, 84b Whitechapel High Street, E1 7QX – 7:00pm
01/07 – Brighton – The Cowley Club, 12 London Road, BN1 4JA – 8:00pm
Despite the welcome release of Pavel Syramolatau in September 2012, comrades supported by the Anarchist Black Cross are still in Belarusian jails facing years of incarceration. These convictions form part of an ideologically driven repression of anarchists in Belarus. They follow the revitalisation of Belarusian anarchism in the past few years. Unlike in some other ex-Soviet Union countries and other modern dictatorships, anarchists do not form a minor part of a dissident prison population. Instead anarchists make up just under half of the 'political' prisoners in Belarus.
The Belarusian ABC has campaigned consistently for them to be released and, in the immediate term, for them to be allowed visits, medication, letters and literature, and raises money for solicitors' fees and to buy the comrades' food. They have also recently been supporting comrades in the Czech Republic who have been under sustained attack by the state. Supported by the International of Anarchist Federations (IFA-IAF) they are undertaking a tour of to raise awareness of the situation in the region and spark further solidarity.
More info on the Czech situation, along with links to the Belarus ABC, can be seen here.