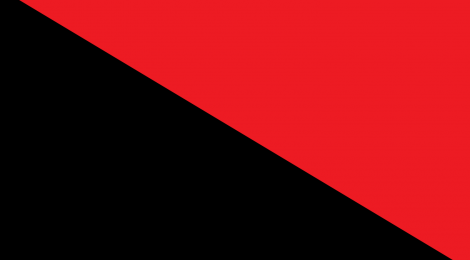 The following article appears [in slightly edited form] as the AF's contribution to the last printed issue of Freedom newpaper, October 2014. Please note that FreedomNews, the new online edition of Freedom, can be found on its shiny new website freedomnews.org.uk
—
THE ANARCHIST FEDERATION. Freedom, Final Edition, October 2014, page 8.
The Anarchist Federation has been going 28 years. We experienced our most recent growth in 2010-11 at the height of the actions against fees and cuts. Even as one of the larger anarchist organisations in Britain we are still small in absolute numbers and we recognise the need to continue to look for practical unity in our movement wherever possible and to support independent initiatives (such as the next issue of Black Flag which will come out again this bookfair after a year's gap). At the same time we steadfastly continue to reject populism, electoralism and anti-organisational tendencies, to promote a social and communist anarchism.
As we covered our take on the situation 'at home' in the last issue of Organise! magazine (issue 82, May 2014), we'll use the opportunity offered to us by the Freedom editors to update readers on what is going on in our international, the International of Anarchist Federations/ Internationale des Fédérations Anarchistes (IFA), founded in 1968. The AF has been part of IFA since 1999-2000 and are currently joined with anarchist federations of Argentina (FLA), Belarus (ФАБ), Bulgaria (ФАБ), Czech Republic & Slovakia (ČSAF), France, Belgium and Switzerland (FA), Germany & Switzerland (FdA), Italy (FAI), Iberia – Spain & Portugal (FAI) and Slovenia (FAO). Our latest addition is MASA (Rijeka) in Croatia who joined the FAO (Federation of Anarchist Organising) at their conference in June this year. The Secretariat of IFA rotates between 5 year congresses and after we'd taken our turn the FAI (Iberia) and, since the last Congress which took place in parallel to the St. Imier gathering in Switzerland during 2012, the FA (Fédération Anarchiste) currently holds the reins.
Important things are happening in Central Europe and the Balkans. Freedom readers will be familiar, even if they don't know the details, about an uprising in Slovenia in 2012-3 which brought people on to the streets across the country (full story in Organise! 83). The FAO was instrumental in creating a strong libertarian current.
Internationalism has been strengthened in the region with the continuation of communications helped by successive anarchist bookfairs, the latest of these having taken place this year in Bosnia. As the joint participant statement read, "The need to confront nationalist ideology from a radical and anti-authoritarian perspective brought us together in Mostar on the 5th and 6th of September 2014, for the 8th Balkan Anarchist Bookfair. We came from Bosnia and Herzegovina, Croatia, Serbia, Slovenia, Albania, Romania, Greece and other countries outside the Balkan area. The true nature of nationalism is nowhere more obvious then in Mostar, a city divided in two, with the signs of wartime brutality still evident in the streets of the city. It is essential to realize that this division was not the cause of war, but the consequence of wars and nationalist ideologies created by the ruling class." Repression is also a constant feature for anarchists in the Balkans and Central Europe, including Belarus where we supported comrades undertaking speaking tours in Western Europe and with practical solidarity, and previously we joined the support for the Belgrade 6 prisoners in Serbia.
Another important area for IFA is North Africa and the Middle East. Renewed communication started in Tunisia several years ago resulting from the 'Arab Spring'. Anarchists are most recently experiencing repression in Egypt. Thanks to the FA's outreach we now have much better connections into the region which means a more meaningful solidarity is possible.
Elsewhere, IFA has been quick to support emerging initiatives such as the Observatario Crítico in Cuba and its exciting new connection through Taller Libertario Alfredo López in Havana with the comrades of Kiskeya Libertaria in the Dominican Republic, who have now come together to form a Spanish-speaking Caribbean Anarchist Federation. This adds to existing links Central and South America. Other meaningful contacts are being developed with anarchists in Greece, Iraq (Kurdish), Turkey, Poland, Iceland, the Philippines and Korea.
Being involved in IFA is always interesting. We are a grouping of social anarchist federations, not a single international anarchist federation with uniform ideas and structures between all of its member organisations. It has taken many years of membership for the AF to understand the effects of differences in level of consensus required for decision making. A more obvious challenge is language. As the AF (and this surely applies to the whole of the anarchist movement in Britain) we know we don't translate nearly enough material ourselves and so we benefit greatly from the efforts of comrades in other countries who handle the enduring privilege of English as a language of international communication with no complaint (the other main language of communication in IFA is Spanish). Currently the German speaking federation (FdA) has tasked the whole of IFA to understand our constitutional differences even better so we can work together most efficiently.
Face-to-face meeting is vital to IFA. We meet 2-3 times a year at formal delegate meetings (Commission de relations de l'internationale des fédérations anarchistes, CRIFA) and at bookfairs. This year we will welcome IFA comrades, amongst other international participants, at AFem 2014 as well as the London bookfair.
Mike, AF International Secretariat Coordinator & IFA contact. www.afed.org.uk

For more information and specific activities visit http://i-f-a.org