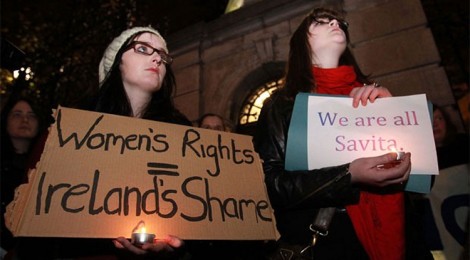 Once again the news coming out of Ireland regarding the welfare of women and children is both appalling and yet unsurprising.
The country which imprisoned and starved women and their babies for being respectively pregnant and illegitimate and which buried them in mass graves, has committed another atrocity against a woman. She is unnamed, a non-national, who speaks little English and was, at the time the crisis pregnancy began, a minor aged 17.
This woman has suffered multiple rapes. Firstly she was raped by the penis, then by the medical instruments wielded by doctors and other practitioners who forced the equipment into her body, down her throat and into her abdomen and womb. She was forced to carry the foetus she did not want. The whole horrible, sad mess is another example of how a male-based, church-based, state based power deals with women who don't fit and accept its structure. When we do not accept the power of a male-based religion, a capitalist patriarchal state we are assaulted by its full strength.
When Savita Haloppanovar died in Galway 2 years ago, after being refused a termination despite being in the throes of miscarriage and suffering from septicaemia, many reproductive rights activists including myself, thought, this is it. They can't allow any more disasters like this. The law will change, people needing terminations will be able to get them where they need them and when they need them. We thought the Irish State would not want to expose itself to any further international embarrassment. In the last month the Irish State has been heavily criticised by the United Nations for its cruel abortion legislation. But, no. The wheels of legislation rumble slowly and the bodies of those pregnant are ground between the cogs of the machine.
The State does not exist for the welfare of its citizens. The State exists for the benefit of, amongst others, the powerful and the rich, the religious hierarchy and those who benefit from patriarchy. We anarchists know this well. Horror stories such as this one will continue as long as we are governed . It will only be in an anarchist revolution that all the components of this horrible story, from male violence, oppressive state legislation, medical dominance, ageism where young people's decision making is invalidated will be removed. The organisations working in Ireland are campaigning for the repeal of the 8th amendment. Whilst this will improve the situation it will not truly free us. The power of the state will remain.