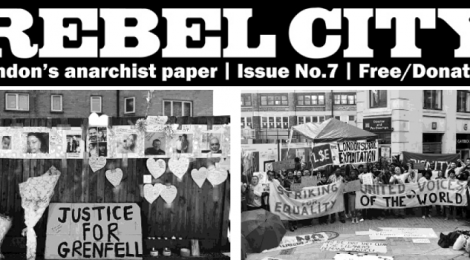 The latest issue of the London regular 16-page anarchist newspaper Rebel City 'FED UP? THEN RISE UP!'  is available for free download – click to download October 2017 issue no. [7]
Co-published by London AF group, Haringey Solidarity Group, IWW, Solfed and others.
Contents: Housing, benefits, IWW, Community struggles & self-organisation, Corbyn & Momentum, Land justice, The Grenfell Tower Inferno & Mutual Aid, Antifascism in the time of Trump, Memory in history,  London Anarchist Bookfair, Direct Action Environmentalism.
Back issues online: [6][5][3] [2] [1] [no. 4 coming sometime!]
PDF link URL: http://afed.org.uk/wp-content/uploads/2017/10/rebel_city_07.pdf