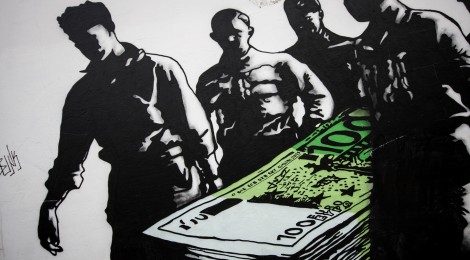 Click here for a full pdf copy of Organise! #85
Physical copies can be ordered via AK Press and Active Distribution.
---
Contents
Editorial: Making space for resistance
The SNP, Scottish Nationalism, and the Class Struggle: Yesterday, Today, and Tomorrow.
Guide for collective survival in times of mass destruction
They say cut back, we say… what?
Austerity & Debt: An interview with Kim from Critisticuffs
Fight for the City – Part Two
The Working Class Needs Who?
Upcoming Speaking Tour Dates
Boycott your graduation ceremony if you really care about the class divide
A reply from a member of the Anarchist Federation
Carbon Games: The fossil fuel divestment campaign
Deleuze and Guattari – An Investment for Combat
Culture Feature – Jules Vallès–Child, Student, Revolutionary, Journalist, Novelist
Book Review – Underground Passages
Book Review – Franco's Crypt
AF publications
Editorial: Making space for resistance
Ever felt the walls closing in on you? In this issue of Organise!, we look at how the spaces that working class and oppressed people have to live and resist are under attack – from the government and from the State, certainly. But also from movements, groups and organisations that pretend to be on our side.
In the second one of our series of articles on the politics of the city, we explore how public space is being privatised across the UK. Sometimes this privatisation is literal – whole areas of cities like London, Liverpool and Manchester are now in private hands, with private security guards to match. Often, the theft of public space is more subtle, with new forms of regulation and surveillance. This links with the processes we looked at in the last issue of Organise!, when we saw how cities are increasingly transformed into places to consume rather than places to live.
Moving on to other potential sites of resistance, the article "They say cutback, we say… what?" offers an account, not only of austerity, but also of how the fightback against austerity is often channelled into the same sterile routines of protest. We look at how this happens, and also how people are resisting on two fronts – against austerity, and against those who would co-opt the fight against austerity for their own ends.
By the time you read this article, the leader of the Labour Party will either be Jeremy Corbyn or someone else. We don't think it matters one way or the other, and present a critical account of another recent electoral sideshow, the Scottish referendum. Tracing the recent history of the Scottish Nationalist Party, we look at how nationalism has become entwined with radical politics in Scotland, and how many have succumbed to the empty promises of "progressive nationalism."
It's not all doom and gloom, however. Elsewhere in this issue, you will find reflections by people fighting back. We have some comradely words about the Industrial Workers of the World (IWW), looking at both the opportunities and risks offered by the Wobbly brand of industrial unionism. There is also a critical account of the campaign to get institutions such as universities to stop their investment in fossil fuels. And speaking of universities, we have an article urging students to boycott their graduation ceremonies.
As anarchists, we have a rich social, cultural and theoretical tradition to draw on. In this issue, you'll find an account of the life and work of an often-neglected figure from the Paris Commune, Jules Vallès, as well as reviews of books on anarchist engagements with art and culture, and Franco's Spain. And in a first for Organise! (and possibly everywhere else!), there's a readable introduction to the thought of philosophers Deleuze and Guattari, written with anarchists in mind. Since we started by thinking about walls, we'll end with a quote from those two – "A concept is a brick. It can be used to build a courthouse of reason. Or it can be thrown through the window."