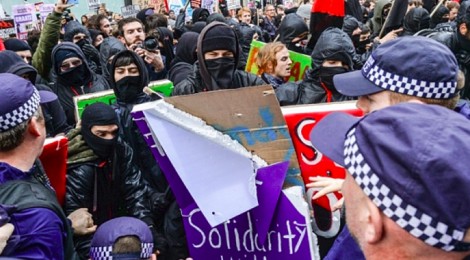 The Higher Education green paper came out today and it's fucking catastrophic for anyone wanting to learn. Here are six reasons why:
1) The government and business interests want to make it easier to found universities while at the same time have an 'exit strategy' for universities that fail. This means rich people/companies can set up a uni, have no limit on the number of people they take in, churn some bullshit degrees out for a few years, then go 'bust' and fuck off with the profits. And the people who got a degree at the institution? Only worth using it as toilet paper.
2) Higher Education facilities will gain an exemption from FOI (freedom of information) requests. This means that universities will be in no way publicly accountable as they won't have to disclose unfavourable information, for example: Are they upholding their duty of care to students? Are they widening participation beyond the rich? Are they complying with the equalities act? It also means they can harass students and not get caught. Together with the new prevent framework this will mean spying, regulating and harassing Muslim students, BEM students, and anyone considered to be a radical.
3) The tuition fee cap to be put in the hands of the Department of Business, Innovation and Skills. This means that if the government want to increase fees, they just do it. No consultation needed and it won't have to pass through parliament.
4) The Office for Fair Access will become absorbed into a new body, the 'Office for Students'. In reality this means they'll abolish it, or reduce its funding so that it functionally doesn't exist. This means even less commitment to getting women, BEM/PoC, poor people, queer people and disabled people into uni and (importantly) keeping them there.
5) There will be two areas used to work out the level fees should be set at. One will be the volume of research they turn out, and the other will be the National Student Survey (NSS) results. Typically, research intensive 'elite' universities perform poorly on areas of NSS such as student satisfaction. By ensuring research and NSS are both used all universities will be able to justify bloated fees.
6) If you don't fancy paying these bloated fees, don't worry. There'll be plenty of shit universities founded with the purpose of giving you a degree you might as well have printed off the internet for a much more reasonable price. Media studies BA from IMDB? Business management MA from McDonald's? How about an MSc in biology from WebMd? Private companies will be looking for the prestige of being tied to a degree course, no matter how much of a joke it turns out to be.
In short: students, workers, and anyone who has an interest in higher education are going to need to gear up for a fight. If you are interested in doing so and want some good information on how to get started (and to learn the lessons from past struggles) then the best place to look would be at the Student Organiser's Handbook project.