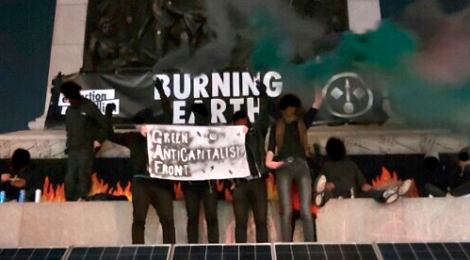 On the second day of Extinction Rebellion's 'October Rebellion', GAF (Green Anticapitalist Front) organised a noise demonstration outside the Oil and Money conference taking place in Park Lane. The Oil and Money conference is as evil as it sounds and acts as a global meeting for fossil fuel executives to meet with their financiers, to plot how to continue to destroy the planet for profit. In attendance were some of the most criminally destructive people on this earth and GAF wanted to show our opposition to their celebration of exploitation.

Our noise, aiming to disrupt their conference and pressure their security, came in the form of whistles, sound systems and sirens, which forced many conference-goers to get behind the hotel's metal barriers as fast as possible, with the help of a sizable private security detail. We received some support from the nearby XR Global Justice Rebellion camp in St James Park, at which GAF are present throughout the occupation working with the most radical elements of XR in educating activists on the threat of eco-fascism and discussing how to deal with it.

Unlike the majority of XR actions, GAF had not notified the police on the demo and as a result we were able to draw a panicked response from the police who attempted to work with private security to keep activists from the entrance to the Hotel and the guests inside.

Later in the day GAF activists returned to the conference to once again place some pressure on the executives responsible for so much destruction. We used smoke and a banner drop to make our presence known, further panicking the conference-goers and their security.

After having some fun at the conference we dropped by the main site of XR's protest at Trafalgar Square to leaflet, followed by a banner drop in solidarity with all those protesting and all those arrested.
As the action showed, the Green Anti-capitalist Front aims to focus primarily on showing the root of the environmental crisis is the system which allows a small few to exploit and destroy the planet for profit. We will continue to disrupt actions like the Oil and Money conference, which helps to fund their ventures and operations which overwhelmingly target and attack indigenous land and people, as well as the wider ecosystems they reside in, because if we aren't focusing on the rich and powerful as the creators of the climate crisis then we aren't going to seriously tackle climate change.
For more see: Green Anticapitalist Front