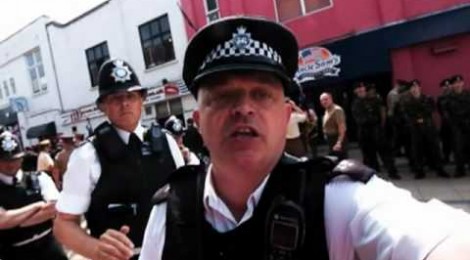 Fron netpol.org:
Nowadays with most of us having a camera on our mobile phones, more and more people are able to film the actions of the police during a stop and search and are choosing to do so.

However, there are a few basic suggestions that may help you to be better prepared, can ensure that deciding to film the police makes a difference and can mean any footage has genuine value as possible evidence.

Why stop and film?

Ordinary people stopping and filming the police can mean that officers behave differently than they would if no-one was watching and recording their actions. This might make the experience for the person who has been stopped far less intimidating or threatening.

The more often the police are filmed stopping people, the more officers may come to expect that they may be filmed in the future, which can influence the way they generally treat people and whether stop & search powers are routinely used indiscriminately.

If police officers have acted unlawfully, filming them can help provide evidence if there is a formal complaint or if someone is arrested.
Read the full article here.