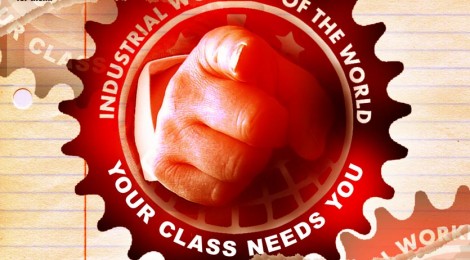 From the Industrial Workers of the World:
The National Secretary of the IWW, Dave Pike, introduces the fighting union, what it stands for and how it is winning victories for the working class – like higher wages for cleaners, permanency for temps and safety at work for fast food workers. The IWW sees the world as divided by the boss class and the working class, and no-one will fight for our class other than us. We organise so that workers can win for themselves and are not reliant on Union full timers or politicians to fight for them.

Come along to this event and find out what the IWW is doing in Europe and around the world, and how you can get involved. Fight for your class.
Full details of the tour are still being confirmed and this post will be updated with the latest info as we have it. Dates/Locations so far:
July
24th – Edinburgh – Autonomous Centre Edinburgh, 17 West Montgomery Place, EH7 5HA @7:00pm
25th – Aberdeen – East Neuk Bar, 32 King Streer, AB24 5BD @1:00pm
25th – Glasgow – CCA Clubroom, 350 Sauchiehall Street, G4 9AJ @7:15pm
August
4th – Liverpool – Liverpool Central Library, William Brown Street, L3 8EW @6:45pm
7th – Reading – Venue TBC
11th – Durham (Tyne and Wear Branch) – Venue TBC
September
15th – Manchester – 7pm, Methodist Hall, Oldham Street, M1 1JQ @7:00pm
22nd – Leeds – Venue TBC
26th – Sheffield – Venue TBC
30th – London – Venue TBC
October
10th – Cardiff (Wales Branch) – Venue TBC
Unconfirmed
There are plans to hold events in Bristol and Bradford – Dates/Venues TBC