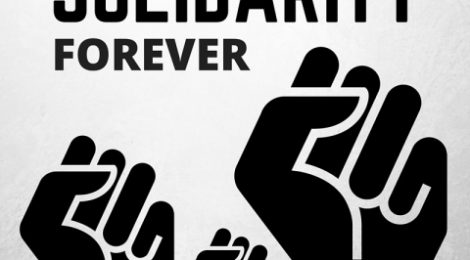 Anarchists and antifascist activists have been arrested and imprisoned in Russia with extreme violence by police and FSB (federal security forces) in recent days, which appears to be part of a generalised clampdown on dissent during the presidential election period (of which the first round is due to take place mid-March). Read this call for solidarity including legal funds.
The following was posted on Avtomon (Autonomous Action anarchist network) website on 29/01/2018: https://avtonom.org/en/news/support-anarchist-and-antifa-prisoners-stpetersburg
Note: For background information, see https://avtonom.org/en/news/arrests-and-searches-regard-anarchists-and-antifascists-stpetersburg and https://avtonom.org/en/news/airsoft-penza-terrorism-case
"We are currently fundraising to pay the lawyers working on several cases related to the police raids and arrests of anarchists and antifascists in St. Petersburg and Penza, Russia.
As of now, two people in St. Petersburg and five in Penza are under arrest, while many others have been connected to their cases as witnesses. The raids and repressions are likely to continue.
The arrestees are charged with part 2 of article 205.4 of the Russian Criminal Code, participation in a Terrorist Organisation, and the entire process has been started at the request of the court in Penza.
On January 23rd, on his way to Pulkovo Airport, Victor Filinkov was detained by the Federal Security Service (FSB). In order to force a testimony out of him he was beaten, and tortured with electric shocks in the woods. Signs of torture have been confirmed by the Filinkov's lawyer and members of the Public Monitoring Commission (ONK) who have visited him in the pre-trial detention center. Filinkov is currently in pre-trial detention/remand for the next two months.
On January 25th the FSB raided Igor Shishkin's apartment. After the raid neither his lawyer, nor members of Public Monitoring Commission were able to find Igor for more than a day. On January 27th Igor was brought to a session in court with clear signs of beating. He is currently in pre-trial detention/remand for the next two months. Journalists were not allowed to attend the hearing and furthermore two of them were arrested.
Several witnesses were also tortured: Ilya Kapustin was beaten up and tortured with electric shocks while police demanded he give testimony that some of his acquantances are up to "something dangerous." Medical services later recorded numerous traces of stun gun usage.
In Penza, arrests began in October 2017. Local FSB officers have arrested six people, five of whom are currently in pre-trial detention. All of those arrested were brutally tortured. The events in Penza are described in detail in this article.
Legal help is needed for prisoners and witnesses, as their numbers are constantly increasing. It is early to speak about an exact amount of money, but it will cost at least 200 thousand rubles (around 3000 Euros/3500 USD) to pay for lawyers' fees in the next months."
For details and updates see Avtomon we(Autonomous Action anarchist network) website: https://avtonom.org/en/news/support-anarchist-and-antifa-prisoners-stpetersburg