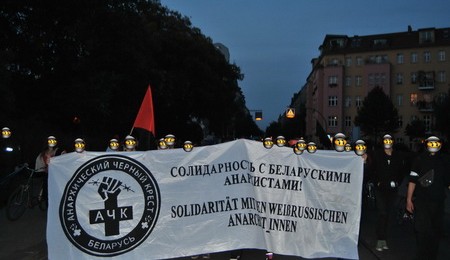 At the Sofia meeting of the International of Anarchist Federations a statement was written in solidarity with the Belarus activists. French and Russian translations can be found here on the Autonomous Action website: http://avtonom.org/node/14318
Solidarity with Belarus activists
The International of Anarchist Federations (IAF-IFA) was gathered in a meeting in Sofia, 30-31 October 2010, while the ongoing repressive, dictatorial government of Belarus remains opposed to all social and political activity that is organised without institutional and hierarchical control.
The International of Anarchist Federations (IAF-IFA):

· Condemns all forms of repression against activists and the grassroots movement regardless of whether they are anarchists or not.
· Expresses its solidarity with persecuted anarchist comrades and all victims of the regime.

· Calls for the mobilisation and commitment of all to raise awareness about the complete negation of freedom in Belarus, for the liberation of all political prisoners and for an end to the dictatorship in Minsk.
Prison letters – Appeal for you to support the arrested with New Year postcards
After the attack on the Russian embassy on 30th August 2010 Belarusian
anarchists, social activists and ecologists were repressed. During this
autumn there was a chain of searches and interrogations in Minsk, Gomel,
Grodno, Soligorsk, Brest, Bobrujsk and Novopolotsk. All in all about 50
people were interrogated. At the moment our friends Nikolaj Dedok,
Aleksandr Frantskevich, Maxim Vetkin and Igor Olinevich are under
arrest. They can face up to 6 years of imprisonment.
We call all people concerned to support the arrestees and send them
postcards.
You can write letters and cards to:
Dedok Nikolaj Aleksandovich
Prison-8
22a Sovetskaja str.
222160 Zhodino
Minsk region
BELARUS
Frantskevich Aleksandr
СИЗО-1
2-46 Volodarskogo str.
220050 Minsk
BELARUS
Vetkin Maxim Ivanivich
СИЗО-1
2 Volodarskogo str.
220050 Minsk
BELARUS
Olinevich Igor Vladimirovich
p/o box 8
Central Post Office
220050 Minsk
BELARUS
Additional information:
http://belarus.indymedia.org/blog/minsksolidarity
minsksolidarity[at]riseup.net
Background information
Since the beginning of September 2010 social activists in Belarus have been faced with unprecedented pressure. After the arson attempt on the Russian Embassy on the night of August 31, 2010 and with the start of the presidential campaign, around hundred of social activists from different cities (Grodno, Brest, Gomiel, Minsk and Soligorsk) have experienced 'talks', interrogations by the KGB, house-raids and arrest. Some of them are still detained. Taking advantage of the possibility to arrest for three days without filling accusation, the authorities re-arrest activists every three days as suspects on other cases. All together 13 people have spent already 153 days under unlawful arrest. During the interrogations the activists are beaten, threatened to be expeled from the places of study, being subjected to psychological pressure and are not allowed meeting with relatives.
Only a month after the arrest, on October 1, the accusation against Mikalaj Dziadok was made up: the participation in the action near the General Staff of the Ministry of Defense (Article 339 Part 2 — hooliganism, up to 6 years of imprisonment). September 20 Aliaksandar Frantskievich was charged with the perpetration of the attack on the police station in Soligorsk.

All those repressed are activists and participants of the social, ecological, anti-authoritarian, antifascist and humanitarian initiatives. We call to everybody who cares about the fate of the arrested anarchists, anti-authoritarians and social activists to organize on October 14-20 solidarity actions near Belarusian Embassies and representative offices around the world. Only by means of global solidarity we can get our comrades out of prison.
Please help us to spread this call-out as widely as possible. You can send information about solidarity actions to minsksolidarity[at]riseup.net

The chronicle of the events – http://belarus.indymedia.org/blog/minsksolidarity
Photo of ABC solidarity demo in Berlin