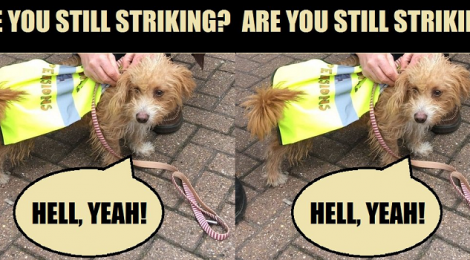 The University and College Union's industrial action over pensions today (8th March 2018) completed 10 days of well attended picket lines by lecturers, researchers, admin workers and postgraduate students in one of the most protracted higher education strikes in memory. In spite of freezing temperatures on many days the level of action on campuses across England, Wales, Scotland and Northern Ireland has been impressively solid and is set to continue unless the employers agree to move away from the extremely detrimental USS pensions plans.
Student solidarity has been excellent too. Some are in fact UCU members themselves, supporting the strike, but being part of the UniTemps agency are ineligible to take industrial action directly – they are not directly employed and don't get a pension either!  Students, both undergraduates and postgraduates, have organised demonstrations and there have been occupations of management offices in Bristol, Leicester and Liverpool, amongst others, and of the HQ of Universities UK employers association.
Strikers have been using social media to good effect including @dogsondemos on twitter and facebook and many creative hashtags as well as #ussstrikes and this is helping to connect staff and students within and between universities.
The middle of week 2 saw employers agree to meet the union through ACAS and this week there have been initial talks, which is a good initial result from the strike. But examples of employers trying to get around the strike have been illuminating. Edinburgh University decided a good way was to show old recordings of lectures. The usual threat of workers working to rule on non-strike days being treated as withdrawal of labour was also bandied around as well as commands to tell management of intention to strike in advance to give them time to find contingencies.
The action has not been perfect. Picket lines are regularly crossed by workers in other unions and in big institutions this allows non-union members and even scab union members to get on to campuses with little real consequence apart from shame. Add to this the practice of temp agency employment and other casual employment practices where union membership is low, some employers are able to claim that their universities are running as normal.
But, their pain is clearly being felt and continued action will see strikers at the entrances of campuses being visited by prospective students and parents on open days and will affect exams after Easter, as well as research and teaching over the current month of strikes. The action has given some badly needed space for university vice-chancellors to make a reassessment of the case of the USS pension scheme's sustainability. The length of the action has also created spaces for discussion about the broader contexts of marketisation and casualisation in education to set in, including  specifically organised 'teach-ins' by staff and students.
Public support for the strike has been good. It has been encouraging to hear more than usual support from the honks of passing vehicles whether public, self-employed or private sector. It seems that the action being taken has struck a chord with workers who are continuing to feel the squeeze of austerity, whilst politicians are sinking in the mire of Brexit, commercial woes and with international war games and intrigue taking centre stage. In this context, this industrial action in higher education is hopefully offering a ray of sunshine.
The strike will continue all of next week (12-16th March), another 2 weeks of strike action in the April/June exam period has just been accepted by the Higher Education Council, plus action short of a strike will extend into the summer in any case, unless agreement about the unwanted USS proposals is reached.
Background information:
http://afed.org.uk/university-pensions-industrial-action-to-begin-on-22nd-february-2018/