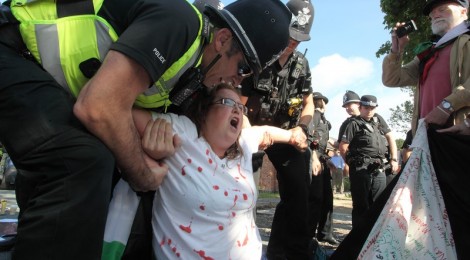 From Electronic Intifada:
Protesters today shut down four different factories owned by Israel's biggest arms company, Elbit Systems. The protests mark the one-year anniversary of the 2014 Israeli attack on Gaza.

Police issued an injunction against protests at one of three UK sites, a drone engine factory near Shenstone, Staffordshire. Despite this, a number of activists have been locked-on at UAV Engines Limited (UEL) since early this morning, blocking the road and entrance to the factory. Hundreds of Palestine solidarity campaigners are supporting them. Police have made at least 10 arrests.

Also in the UK, production has been halted at Elbit's Elite KL factory in Tamworth, Staffordshire. A third Elbit-owned factory called Instro Precision in Broadstairs, Kent, has also been shut down. Activists are protesting on the roof of both factories.

A similar occupation took place in Melbourne, Australia.
Brilliant to see folks tackling warmongers head-on.