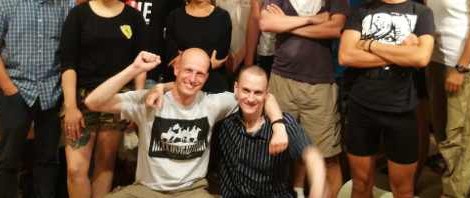 From Anarchist Radio Berlin:
On August 22, the Belarusian president Lukashenko signed papers to release all official political prisoners in the country. This includes the three anarchists that were still imprisoned. As Anarchist Radio Berlin, we talked with Anarchist Black Cross Belarus about their release and the upcoming elections among other things. You can find more information also in English on the website of ABC Belarus.

For security reasons, this interview has been re-recorded using our own voices.

Length: 5:18 min

You can download the audio at: archive.org (wav | mp3 | ogg).
You can also listen on site via the link above. The AF has been involved in the organisation of two speaking tours in UK to support the campaign as well as having members undertake other solidarity actions, so have a look back in the Belarus tag if you want to see the history of the imprisonments and the recent release. Until all are free!