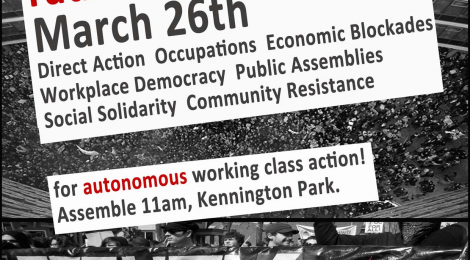 With sufficient rank-and-file anger, the trade unions may be pushed into calling a general strike – only the second in British history. However, it's us, not the union bosses who can stop the cuts. All reformist unions can offer us is sellouts like Aaron Porter from the NUS. We can't put our faith in anything other than our own solidarity and ability to organise. We must take a lead in organising action ourselves rather than waiting on the TUC or anyone else to do it for us.
We also intend to argue that it is capitalism that has caused the crisis that has led to these cuts and that in response to their class war we need to reciprocate: meeting cuts with direct action – strikes, occupations and civil disobedience – whilst fighting for a different world which puts human needs first.
Bring red and black flags, banners and propaganda. The workers movement needs anarchist ideas and methods more than ever if we're to beat the cuts.
Meet at 11am Kennington Park, South London.
Called by South London Solidarity Federation and the Anarchist Federation