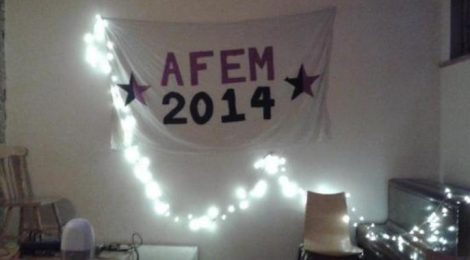 The Anarchist Federation was amongst others organising AFem2014, a series of events and activities by anarcha-feminists two years ago. Its organisers recently signed a the letter Stand Up To Racism: Stand Up To Rape Culture highlighting the problem of sharing a platform with the Socialist Workers Party in the organisation 'Stand Up To Racism'. This is because of the SWP practice of not taking seriously allegations of sexism, rape and rape-denial, and at the highest level. The main focus was on Jeremy Corbyn, and initially it seemed that he would withdraw, but the latest news is that AFem is signing a further statement, as follows.
'We, the undersigned, are committed to resisting rape culture and rape apologists wherever they arise in our networks. Three weeks ago, we sent a letter to Jeremy Corbyn asking him to reconsider appearing as a speaker at 'Stand Up To Racism' conference, on 8th October. This letter was sent not only to Corbyn, but all speakers billed to appear at the conference. Our concern is that the Socialist Workers Party plays a leading role in Stand Up To Racism, despite its well-documented cover-up of rape allegations and treatment of sexual assault survivors in 2013. After sending our letter to those billed to speak at the conference, at least one high profile speaker dropped out. We were also assured by a member of Jeremy Corbyn's media team that Corbyn had agreed not to attend. However, on 8th October it was widely documented that Jeremy Corbyn went to the conference. We suspect that we were deliberately misled to stop us from going public with our concerns about Corbyn's association with the SWP. Some signatories have publicly defended Corbyn's politics in the past. However we are all agreed that any platform for the SWP, because of its leadership abusing and gaslighting women inside and outside the organisation, is counter-productive for grassroots community and labour organising. Stand Up To Racism cannot be an effective anti-racist movement if it actively condones misogyny by having rape apologists in its leadership and paid staff'.
This matters because time and time again, political organisations which supposedly oppose sexism will put their own advancement above feminist principles, and find ways to justify shoving women to the bottom of their real agenda, telling us we have to wait. Organisations with hierarchical and centralised structures are particularly problematic here, because, however 'democratically' their leaders are chosen, they benefit from an extra tier of privilege which can simultaneously to facilitate and conceal abuses of power such as rape. It is no accident that so many cases of the abuse of women take place in privileged circles. Anarcha-feminism says that all oppressions have to be addressed at the same time – now – and that those experiencing oppression make the best progress where our interests in struggle intersect, such as where we fight sexism and racism together. Men who benefit from sexism and white people who benefit from racism must recognise their privileges and actively undermine it, not least political activism. The anarchist movement is far from immune to misogyny, but anarcha-feminists are making important and effective interventions. Here is a discussion document on Privilege Theory that the Anarchist Federation has contributed to the struggle.