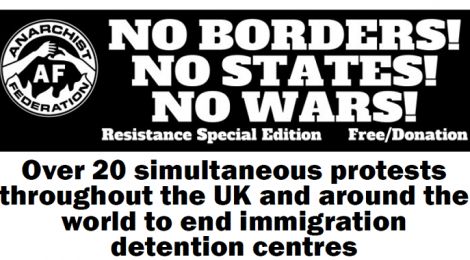 This article is written by a member of Black Dissidents – Black Dissidents are a UK based group of militant black and brown activists, fighting for liberation by any means necessary – you can find them on facebook

---
Migration and the defence and acceptance of migrants is very tied to the experience of British people of colour. Many of us and our families emigrated to the United Kingdom from a country that has previously been exploited by the British empire in order for it to grow. Whilst some of us have been able to leave, the exploitation is still ongoing and the remnants of these historic wrongs can still be felt today. Therefore Black Dissidents believe that it is critical to elevate migration as a priority for the liberation of black and brown people.
Migration has been placed at the forefront of everyone's minds since the influx of refugees from Syria. The situation has gotten desperate and Fortress Europe has responded with fences, tear gas and water cannons. But there is a growing grassroots movement providing support for the migrants not only as they make their journey into Europe but also when they arrive on its shores.
Black Dissidents are organising a solidarity trip to Calais Migrant Solidarity Camp. We believe that it is critical to make the connection between those of us who have successfully migrated to Britain with those who are still fighting to make it over. It is important to build this bond and show solidarity with our brothers and sisters. It is by building and nurturing this bond that we will be able to grow as a community and fight for our liberation.
Black Dissidents also want to provide support to the migrants who have arrived in the UK and unfortunately find themselves abducted and held indefinitely at a detention centre. Yarl's Wood is one of the most notorious detention centres in the country. Detainees there have been sexually assaulted, died in custody under suspicious circumstances and been subjected to racial abuse. The population is also 90% female which has led to campaigners using the rallying cry, "Set Her Free!"
Black Dissidents have been working with the Movement for Justice to organise protests outside Yarl's Wood to demand its immediate closure along with the closure of all detention centres. There have been two national demonstrations to date. The imposing fences surrounding the prison have been torn down twice. The walls have also been covered in graffiti by demonstrators with pro-immigration messages. The protest isn't limited to the outside of the detention centres. Inside many detainees also join in by chanting out of the window and banging on the windows and walls.
The next national demonstration is planned for the 7th of November*. Details can be found on facebook, though you can also book a place on from London or Birmingham through there links. We will once again join the hundreds of people from across the country outside the prison and the detainees protesting inside to demand the end of detention centres. We will not stop until each and every single detention centre is shut down. No one is illegal. Fuck your borders!
---
* In Scotland there will be an action to Surround Dungavel Detention Centre on Sunday the 25th of October (please note the change of date; full details on facebook). You can contact we.will.rise@riseup.net for more info on how to get involved.