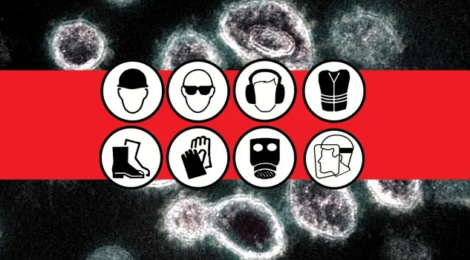 If you haven't yet picked up on the latest missive from our reckless Prime Minister and the government's latest plans, those of us who are not already out at work or likely to be able to continue working-from-home, are due for a very risky and deadly push back to work over the forthcoming weeks and months. This is aligned to ideological right-wing libertarian and capitalist interests to get the economy moving – profit for the bosses in other words.
These new freedoms fly in the face of the obvious danger from Covid-19 in that longer contact as well as closer distance from infected persons is involved in higher contagion. Without population level testing, and because it is possible to carry the virus without obvious symptoms, there is really no good way of knowing whether we or a co-worker is infectious once we are back in regular contact after lockdown.
The risk is much greater if we are expected to work near each other all day in offices and factories. Jobs involving changing contact with different people in the general public are also highly risky – drivers of public transport and shop workers for example. Risk of spread from travelling on mass transport or taxis means the virus is more likely to get into workplaces once regular movement increases.
Our government clearly wants individual workplace bosses to manage acceptable risk of catching and spreading this deadly virus amongst their workers. Examples of best practice are being paraded on TV such as manufacturers which may have the space and resources to do it, but this hardly seems likely to be replicated across the board. In March 2020, as the Covid-19 outbreak spread in the US, Fiat-Chrysler car workers had to walk out multiple times to get even simple safety measures in place, such as enough cleaning products for machines. Workers clearly still need to be on their guard, even in these large conglomerates which have the media eye on them, as the lockdown exit agenda is pursued. And as unions are already saying, workplaces and the travel to and from them must be protected alike.
Freedom anarchist paper's website has a couple of useful articles about the relevance of health and safety in employment law but which also clearly stress the need for workers to organise against a dangerous return to work which is prompted by economic rather than health interests.
https://freedomnews.org.uk/if-your-workplace-isnt-safe-you-dont-have-to-work-there-coronavirus-and-your-right-to-stay-at-home/
https://freedomnews.org.uk/dont-join-organise-on-the-limits-of-employment-law/
At the same time, new unemployment is causing misery for many people who are not furloughed and the 80% furlough scheme is expected to be downgraded after July which could risk redunduncies as the government expects bosses to top up the rest. Again, the need for workers to organise in and outside of the workplace is greater than ever.