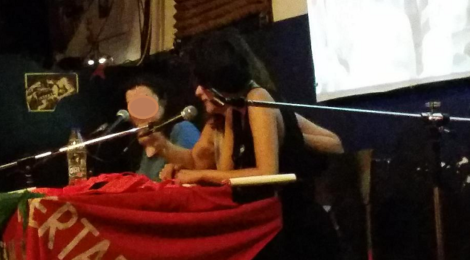 The 11th IFA congress is taking place this week in the capital city of Slovenia over 5 days, following the last one in Frankfurt in 2016. The meeting includes comrades from many countries in Europe and the Balkans and smaller contingents from Latin America and Asia. The format of the congress is one of plenaries, pre-planned meetings (on migration struggles, anti-militarism, repression e.g. in Belarus, gender struggles, anarchist media, working class movements e.g. in Brazilian favelas etc.) workshops (e.g. on internet security and mental health) and panel discussions, taking place both inside and outside of the venue.
There are also public meetings each evening at the Metelkova centre (see photo of Argentinian anarchist comrades talking about the Ni Una Menos movement and the broader gender struggle) and cultural events including a revolutionary choir. The infrastructure of the congress is hosted by the Federation of Anarchist Organising (FAO) and self-organisation by the other participants including contact information point, food preparation and an awareness group for individuals to contact with any problems. Federations also have an area in the venue to display their publications etc. A report on the congress will be published after the event.
If you read Italian you can also read this article, from Umanita Nova introducing the congress, for more detail.