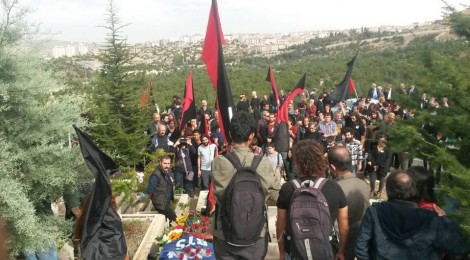 A Statement from Devrimci Anarşist Faaliyet (Revolutionary Anarchist Action in Turkey) on the bombing a meeting of the labour movement in Ankara on Saturday 10th of October:
CAN'T BE FORGOTTEN, CAN'T BE FORGIVEN

Today, on the 10th of October, the "Labor, Democracy and Peace Meeting" that was organized by various unions, associations and organizations has been attacked. Like in Amed on June and in Suruc on July, the bombs exploding in Ankara today has killed tens of people.

Thousands of people came together from many different cities of the geography against the politics of war, against war profiteering of different power groups. Today, the bombs that exploded, murdered the people who wanted peace, life and freedom against war.

This explosion, in which more than 30 people have lost their lives until now, is a reflection of the blood thirsty greed of the powers. The ones who murdered in Amed, in Pirsus, in Cizir, are now trying to intimidate the peoples, frustrate with war politics and discourage from the struggle for freedom, by murdering tens of people in Ankara.

The powers should know that by any means, be it arrests or murder with bombs, we will not be afraid of the powers or submit their war politics.

For a new world, a life of freedom, the murderers in Amed, in Pirsus, Cizir and Ankara, murdered ones
CAN'T BE FORGOTTEN, the murderers CAN'T BE FORGIVEN.

Revolutionary Anarchist Action (DAF)
Typhon Benol, a member of DAF, and Ali Kitapçı, an anarcho-syndicalist transport worker who was a member of Disk (Revolutionary Union), were killed in the bombing. The following photos come from the funeral of Ali Kitapçı:
Rest In Power comrades.
---
UPDATE The following statement on the Ankara bombing has been released by the Anarchist Federation of Greece:
Anarchist Federation's note on the attack in Ankara

On the morning of Saturday, October 10th, two bombs exploded among protestors during their peace rally in the area of the central railway station of Ankara. The rally had been called by many political organizations and trade unions and it involved thousands of protesters from several cities of Turkey. They were protesting for peace and freedom.

Immediately after the bombing, the Turkish forces of repression hustled to use tear gas against the wounded and the people who were trying to nurse them. Over a hundred and twenty demonstrators were killed and hundreds more were injured.

Whoever the perpetrators of this attack were, whether the Turkish deep state or the religious fundamentalists of ISIS, the fact remains the same. Those who benefit from this attack are the Turkish state and the ruling party AKP. The rally was hit because it was against the bloody, repressive policies of the Turkish state and the AKP, against the war the Turkish forces are engaged in for months in the south-east border of the country, against the war that has been unleashed on the male and female Kurdish fighters.

Just a few weeks before the Turkish general elections, the AKP rushes blatantly to exploit Saturday's bomb attack and the assassination of protesters, trying to bring the Turkish society together around the ideological construct of national unity, to intimidate and silence anyone who dares to resist, so as to strengthen itself politically and to ensure the smooth continuation of the military operations of the Turkish army.

We will in no way forget the dead of our class; we will not forgive their murderers.

We stand in solidarity with all the exploited and oppressed parts of the Turkish society, with all the Kurds and Turks fighting the repression of their struggles and the murderous attacks of the Turkish state.

The bloody state and capital policies will be finding us all united and against them.

Anarchist Federation
Press Office
Greece 18/10/2015