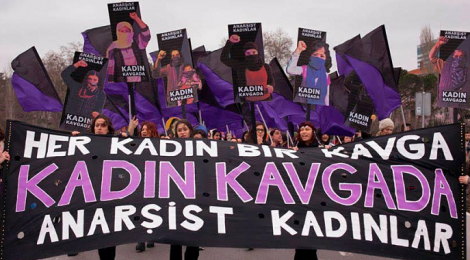 Anarşist Kadinlar – Anarchist Women of Turkey
Anarchists in countries where International Women's Day is celebrated (March 8th) actively point out its hypocrisy under Capitalism. The March issue of the Turkish anarchist newspaper Meydan is being published by anarchist women. They asked women anarchists internationally for contributions in support of this. Our gender-oppressed caucus wrote a statement:
'Dear self-identified women and non-binary people of Turkey,
We would like to send our solidarity from the Gender-oppressed/women's caucus of the Anarchist Federation of the UK. We come from different places around the world but are all writing from a little cabin in the Highlands of Scotland where we are having a quarterly meeting.
Although the situations of women and non-binary people are different in different places in the world, everywhere we are suffering and fighting against violence in our communities, in our relationships and in our workplaces. The government of the UK has made drastic cuts to domestic violence services as part of their austerity drive, as well as to housing and childcare. Trans-misogyny and violence against sex workers and LGBT people are an additional threat. The racist logic of borders is a constant source of violence against women and non-binary people, with the lack of a safe, dignified passage making an already dangerous journey more perilous, and making women more vulnerable to those who would exploit them. The denial of the existence of patriarchy is a constant problem, even within the anarchist movement. As anarcha-feminists, we work to transform the organisations that we are a part of, to make sure that the fight against patriarchy is recognised as intrinsic to the class struggle.
We reject the idea that a woman Prime Minister and First Minister of Scotland in the UK brings liberation for women. As working class women, we are oppressed by the state and capital, and who is in control of these systems makes no difference to our oppression.
We send solidarity to women everywhere on International Women's Day, for the overthrow of capitalism, white supremacy and patriarchy. We carry a new world in our hearts, and we look forward to sharing it with you."
Incidentally, Meydan's editor Umut Firat is currently serving a prison sentence and began a hunger strike late last year in protest against prison conditions. His conditions were improved after fifty-five days and he ended his strike.
Anarchist Federation, Gender-oppressed causus
www.afed.org.uk
More information: https://enoughisenough14.org/2016/12/24/turkey-statement-prison-sentence-to-managing-editor-of-meydan-newspaper/
See also, from APO in Greece, Group against patriarchy
Anarchist Political Organization (APO)  – Federation of Collectives: http://apo.squathost.com/international-solidarity-messages-about-the-8th-of-march/ including http://apo.squathost.com/short-briefing-on-the-participation-of-the-group-against-patriarchy-anarchist-political-organizationfrom-greece-in-the-mobilizations-related-to-the-8th-of-march/