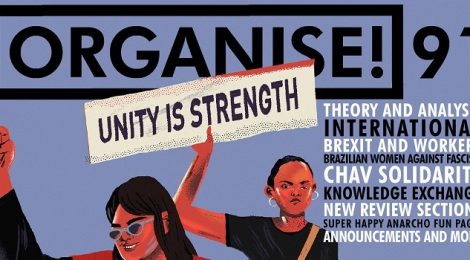 Organise! magazine is out for Ides of March 2019 with some 90 pages and for the first time it's colour throughout. Organise! 91 is free to download [PDF size 90MB] but please consider supporting us by buying a print issue or donating via Patreon.
NEW: Support Organise! http://patreon.com/Organise

Buy print copies from Freedom Press: https://freedompress.org.uk/product/organise-magazine-91/

More AF press in print: https://dogsection.bigcartel.com/category/anarchist-federation
Contents:-
Theory and Analysis
Who's Arming Turkey?
Brexit and Workers – What's the score?
The Scare Cycle – Moral panics and national elections
How Does It Hurt? – Re-imagining violence outside of capitalism
How To Hack Into Bus Stop Advertising Spaces
International
The Yellow Vests: Statement by Fédération Anarchiste
An interview with the Bangladesh Anarcho-Syndicalist Federation
Statement From Brazilian Women Against Fascism UK
The Anti-Worker' Party Rage In Brazil: Progressive or Reactionary?
Knowledge Exchange
Getting A Crew Together
Secure Your Comms
Getting Social
The Principles Of Anarchism – Lucy Parsons
Culture
Chav Solidarity (plus Review)
Social Depravity – Ritchie Smith
An Interview with The Decolonial Atlas
Review Section
Burn After Reading
Red And Black Gamers
Comics
Super Happy Anarcho Fun Pages
Assigned Male
Sidewalk Bubblegum
Announcements
North Earth Anarchist Group
Anarchist Party
Feed The Population
Stop The Arms Fair
Green Anti-Capitalist Front – A Letter To XR