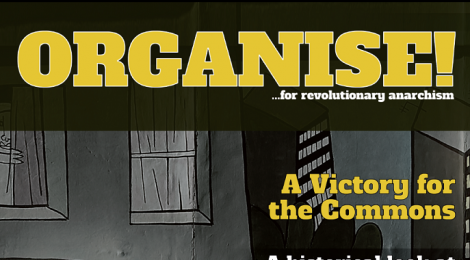 Click here for a full pdf copy of Organise! #86. Physical copies can be ordered via AK Press and Active Distribution.
Contents
Editorial: A Victory for the Commons,

The City is Ours! Fight for the City – Part 3,
A Radical Alternative to Airport Expansion,
They Walk By Night – 13th Century Nightwalker Statutes,
Psychogeography and Public Space,
Taking Up Space – Social Centres in the UK,

The Commons in Pre-Modern Thought,
Unpicking 'The Tragedy of the Commons',
International Gathering in Crete – An important Step in Building a United and Effective Anarchist Movement,
Call for an all-Britain class struggle anarchist conference in 2016,
Cuban Anarchism Reborn: An interview with Mario from TLAL,
Culture Feature – Henri Cartier-Bresson,
Book Reviews – The Failure of Nonviolence; Communal Luxury; Cities Under Siege
Editorial: A Victory for the Commons
The main theme of this issue of Organise! is the 'Commons' and issues related to the control of and access to space. As anarchist communists we reject both private property and state ownership. Therefore, we must consider how we might organise our use and our access to the world's resources. How do we ensure that these resources are managed sustainably and equitably?
The idea of the Commons has often been put forward as an alternative way of viewing land and resources. However, there are two interpretations: It could refer to land or resources that are not owned by anyone but to which a designated group of people have the rights of access; or it could be land and resources that are owned by everyone. In this issue you can find radical and utopian ideas of the commons and public space. In order to struggle we need to have a vision of a different future, one that will encourage and inform our struggles. We believe that this vision is essential in a society that kills hope and freedom, that our vision must stand in revolt against the sordid and banal reality of everyday life under capitalism.
In the third part of the Fight for the City series, we are shown how people are resisting the privatisation of space – both housing and public space. Articles take a look at various subversive practices like nightwalking and psychogeography which question narrow ideas on public space. Such resistance is an example of the fight for the Commons – for access to the resources that we need such as housing and insistence that we have the right to go where we want. However, it is a hard fight, especially as there are increasing moves towards the militarisation of space, discussed in this issue with an examination of the work of Stephen Graham.
We also look at the idea of the Commons throughout history, dating back to ancient times and then on through the Middle Ages. There is also a critique of the essay The Tragedy of the Commons.
In addition, we look at positive developments in the international anarchist movement such as the recent Mediterranean meeting of anarchists that took place in Crete in 2015, and in the re-emergence of the anarchist movement in Cuba and the development of a Caribbean Anarchist Federation.
As well as this we have the usual book reviews as well as another article in our regular series on revolutionary culture, with a look at the work of renowned photographer Henri Cartier-Bresson.