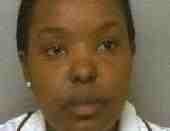 Judge Mark Horton told her: "For the last seven years the life you led in this country was nothing short of a complete lie. Offences of this kind are always regarded by this court as serious and they must have with them some deterrent to dissuade others", even though there is no suggestion she lied about her name, age, personality, or anything else except the place where she was born. According to Judge Horton, this one detail alone is enough to turn her entire life into "a complete lie" and a "serious offence".
Debbie Lloyd, operational fraud manager for the NHS counter fraud service, said: "The NHS counter fraud service is here to ensure that the NHS is protected from deceptions like this." Apparently training up people who want to practice medicine and save lives is not an appropriate use of NHS funds, but paying Peeping Toms like Ms Lloyd to pry into the details of other people's lives is a reasonable use of the health service's money.
No-one has suggested that she would not be a good radiologist or capable of making a real contribution to the health service. There has been no suggestion that she has behaved immorally in any way beyond deceiving the state about the place where she was born. In the eyes of the courts and the Border Agency, that one aspect of her life means she is a serious criminal deserving no mercy. We must make sure that, whenever we get the chance, we show equally little mercy in attacking these chillingly inhumane institutions. They must be razed to the ground if we are ever to build a world where people are allowed to contribute to society instead of being jailed simply for being born in the wrong place.