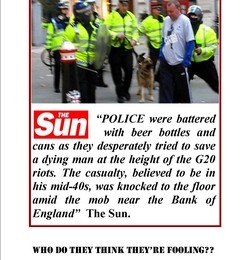 G20 Meltdown. 1st & 2nd April 2009. Links to Indymedia, Legal Monitoring Defence Group and other independent sources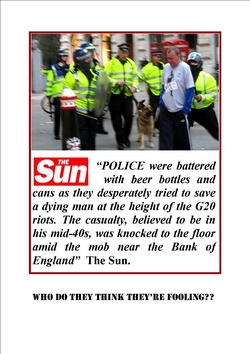 Indymedia UK: G20 reporting – April 1st, summary of the day (including link to London Indymedia).
Legal Defence & Monitoring Group: G20 Defendants' Meeting for those arrested, taking place at Freedom Bookship on Tuesday, April 7th. Follow same link even if you missed the meeting.
Indymedia UK Feature: G20 policing caused man's death: police coverup and media lies.
Indymedia UK: G20 police brutality photo and appeal for more witnesses and footage – unmarked TSG cop assault on Nicky Fisher at Ian Tomlinson vigil on April 2nd. See also: Fitwatch for archive photos of same cop.
Indymedia UK: Witness appeal for G20 police assault on photographer.
Last Hours: G20: another version of the truth – timeline leading up to Ian Tomlinson's fatal beating by unmarked balaclava cop, including Met (Metropolitan Police), BTP (British Transport Police), FIT (Forward Intelligence Team) and dog handler activities. As usual, the killer cop was not on his own and others were subjected to injury (including dog bites).
Schnews: G20 media & policing article and pisstake of 'proportionate' policing statements.
London Indymedia: Response to Police raids on Rampart social centre and the G20 Meltdown Convergence Centre. Read longer article on libcom.org. See also video of Police Pointing a 50,000-volt Taser at a Group of People Lying on the Floor.
Video footage of assaults on Ian Tomlinson and Nicola Fisher by unmarked cops (via mainstream press)
Video (via Guardian) of masked cop with shoulder ID missing, who baton-whipped then shoved to the ground Ian Tomlinson, the man who died, from behind while he was just walking ahead of cops with hands in pockets.
Channel 4 News releases tape recovered from damaged camera clearly showing cop hitting out at Ian Tomlinson from behind with baton.
Further video (via Guardian) showing Ian Tomlinson hitting head on ground after police assault and also showing him just standing on the pavement just minding his own business prior to the police advance.
Earlier photos (via Guardian) of Ian Tomlinson getting hassled by cops.
Video (via BBC) of police attacking the women who was hit across the face and whipped with a baton, by a cop with his uniform lapel ID number concealed.
Below – photo of police medic – from http://www.flickr.com/photos/amjamjazz/3406353191/